ONLINE EXCLUSIVE ONLY


(Not valid for outlet pickup)


" I've tried out their essential oils for the first time and it's amazing! " -

Yin




GIFT
SOOTHING TEA GIFT

This season of giving, surprise someone with your love and care. All natural soothing gift, handcrafted with love. ❤ Perfect for finding a moment of self-love me-time too!

In our #supportlocal initiative, We're teaming up with @rhymbahillstea to bring you more local quality conscious products!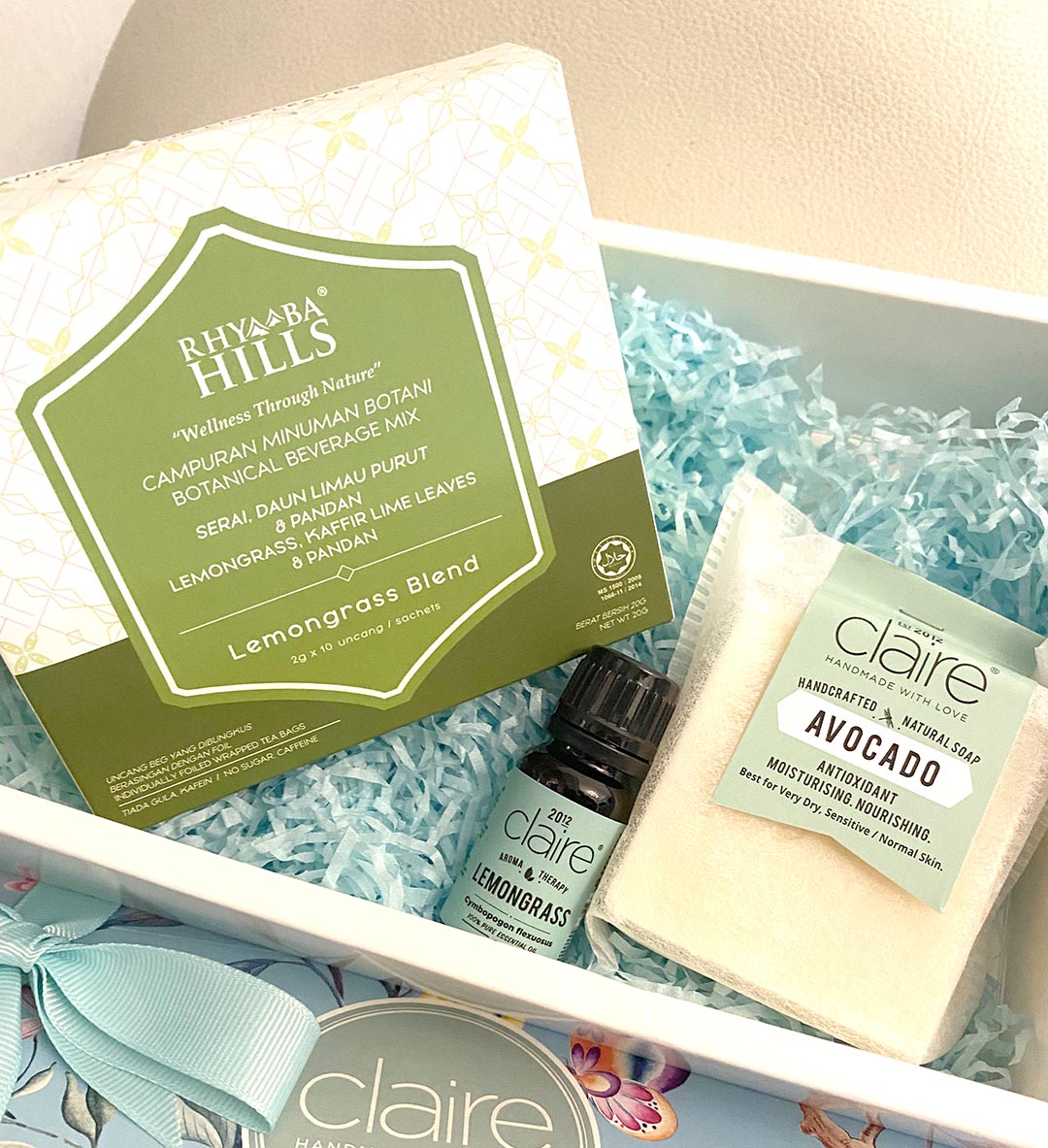 IN THIS GIFT

• RHYMBA HILLS® LEMONGRASS BLEND
Sugar free and caffeine free. Rhymba Hills® Lemongrass Blend is craftily blended with the citrusy Lemongrass, tangy Kaffir Lime Leaves and the 'Asian' vanilla, Pandan, to give you a soothing taste and aroma that you would want more. Perfect for those who: Have constipation, insomnia, Bloatedness, Indigestion.
Ingredients: Lemongrass, Kaffir Lime Leaves, Pandan
Size: 10 sachets x 2 gram
Halal Certified
Customer Testimonies:
"Rhymba Hills Lemongrass Blend is my favourite. It has a unique fresh aroma most pleasant to my taste bud. Immediate bowel movements observed on the 1st refill. I will definitely recommend for any person who has irregular bowel movements. Thumbs up to Rhymba Hills" - Elaine Kum, Director

• LEMONGRASS ESSENTIAL OIL
Lemongrass Essential Oil blends wonderfully with Lemon and Bergamot Essential Oils to create soothing spa calming atmosphere and mood.

• AVOCADO HYDRATING SOAP
Nourishing, soothing. All Natural Handmade Soap for face & body.
Suitable all skin type or sensitive skin.

• EXCLUSIVE GIFT WRAP (Free!)
---
Happy Customer,


Ste** says:

" Lemongrass essential oil smells really good, authentic lemongrass smell :) 10/10 "

Jaz** says,

" I can feel my skin is smoother after using Avocado Soap compared with other soap, which left my skin dry. Sure will continue using this. "

Jassen Lee says,

" I drink Rhymba Hills® Lemongrass Blend at night (before sleep) during the working day. Help me to get good sleep, and help me with indigestion problem (wind in the stomach). "

Zeera says,

" Love Claire products. I mix peppermint with lavender & sweet orange it helps soothe my migraine :) "
---
Customer comments
| Author/Date | Rating | Comment |
| --- | --- | --- |