Had been using Claire Organics products since forever. Super duper love their products..tq Claire team for always taking care of my rebellious eczema 💕
All Claire's products works wonders for me 😘❤️🥰



Stay At Home Natural Care for
ALL SKIN


Your perfect Soother is here! ☘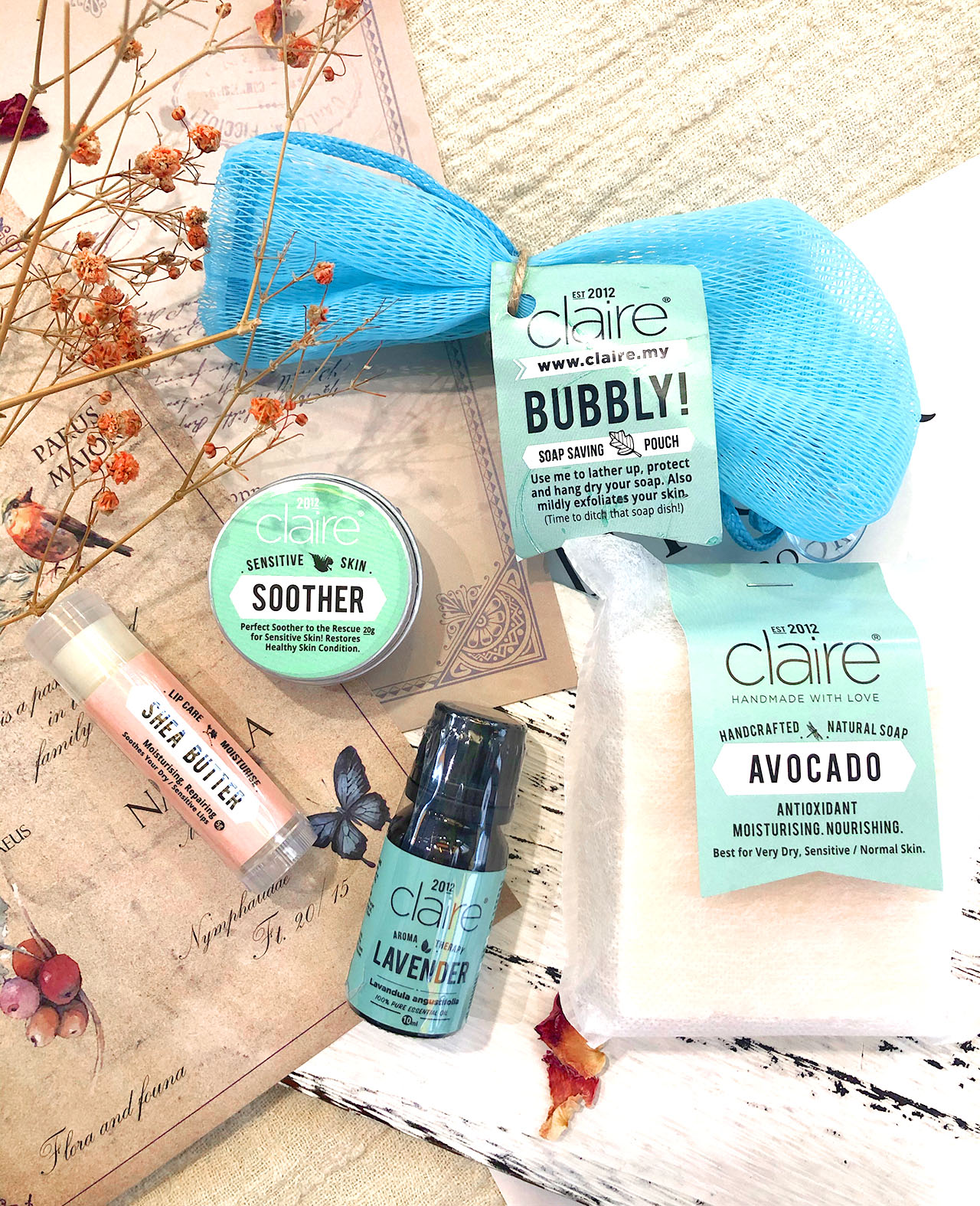 • AVOCADO HYDRATING SOAP
All-natural handcrafted soap.
Best for all skin type, face & body.

• BUBBLY SOAP SAVING POUCH
Soap Saver to protect your precious handcrafted soap, and lather up easily.
Double up as scrubber too!

• LAVENDER ESSENTIAL OIL
Blend wonderfully with Rose Geranium and Bergamot Essential Oils to create calming & relaxing atmosphere and mood.

• SOOTHER BALM
Perfect Soother to the Rescue for Sensitive Skin!
Restore Healthy Skin Condition.

• SHEA BUTTER LIPS
Intensive Lips Treatment for dry or sensitive lips.
Lip Gloss for the day, Lip Mask for the night!



---
Happy Customer,


Raf says:

" my favourite. i always apply this for 3 days continuously on my pimples it will start shrinking. For mosquitoes bite. Flu. Headache. EVERYTHING!!! "


Jas says:

" Very satisfied. I can feel my skin is smoother after using Avocado Soap compared with other soap, which left my skin dry. Sure will continue using this. "


Juj says:

" Their lavender essential oil is very good, it is 100% pure and i felt so relax by using it "


Deb says:

" I have lots of lip balm and lip care but I have to give credits to Claire for it's price and quality that are beyond well known brand. The ingredients here are what I need for my chappy lips. Can be worn before applying lipstick or apply it overnight for long lasting moisture supply. "



---
DID YOU KNOW?



1. Why Handmade Soap?

Handmade soaps from talented artisans use fresh and natural high-quality ingredients such as essential oils, shea butter, olive oil, oatmeal, or goat's milk so it doesn't harm your skin in the long run.


2. Daily Lips Treatment

Use in the day:
Indoor / Outdoor - Protection against the harsh weather or air-conditioning that dries up your lips.

Use in the night:
Apply a thick layer before bedtime, pamper your lips to a full night of intensive treatment, and feel the magical touch on your lips the next day!


3. Soother Balm is our best-seller, best to soothe sensitive skin:

- Eczema
- itchiness
- rashes
- insect bites
- acne
- headache
- nausea
- etc
Customer comments
| Author/Date | Rating | Comment |
| --- | --- | --- |