LEMON
Pure Essential Oil
• 10ml
• ISO Certified
• 100% imported from Australia

AROMATIC PROFILE
Bright, tangy, and pure scent, lemon oil has a light, refreshing scent with stimulating top notes that can be described as sour, citrus and slightly sweet. Lemon essential oil blends well with lavender oil, tea tree oil, eucalyptus oil, rose geranium oil, peppermint oil, ylang-ylang oil, frankincense il, lemongrass oil and other citrus oils.
PRODUCT DETAILS
Botanical Name: Citrus limonum
Composition: 100% Pure Lemon Essential Oil
Origin: South Africa
Plant Part: Lemon Peels
Extraction: Cold-pressed
100% PURE PROPERTIES
Lemon essential oil is one of the most easily recognized oils because of its refreshing, energizing and uplifting scent when diffused or applied topically.
With the fresh, clean and citrus aroma, Lemon essential oil benefits skin and hair as much as its aroma enhances your environment. This best-selling oil can be used in a variety of ways: Mix it with your cleaning products, use it during your nighttime skin care routine, or add a drop to your conditioner for a great scent.
Because citrus oil can cause photosensitivity, avoid applying Lemon to exposed skin before spending time outside.
SUGGESTED USES
Add a few drops in your massage essential oil blend and carrier oil for invigorating and uplifting health benefit. Lemon helps to clear the mind when you're feeling down. Add lemon essential oil to water in a spray bottle and use as a cleanser to purify surfaces in the home and workplace. Add a drop or two to the laundry cycle for a fresh effect.
CAUTION
Non-toxic, but may cause skin irritation in some. Application to the skin may increase sensitivity to sunlight, avoid prior to exposure to direct sunlight.
*Always dilute with carrier oil when applying essential oils. Do not take lemon essential oil internally. Do not apply directly to the eyes or mucous membranes. Lemon essential oil is potentially phototoxic.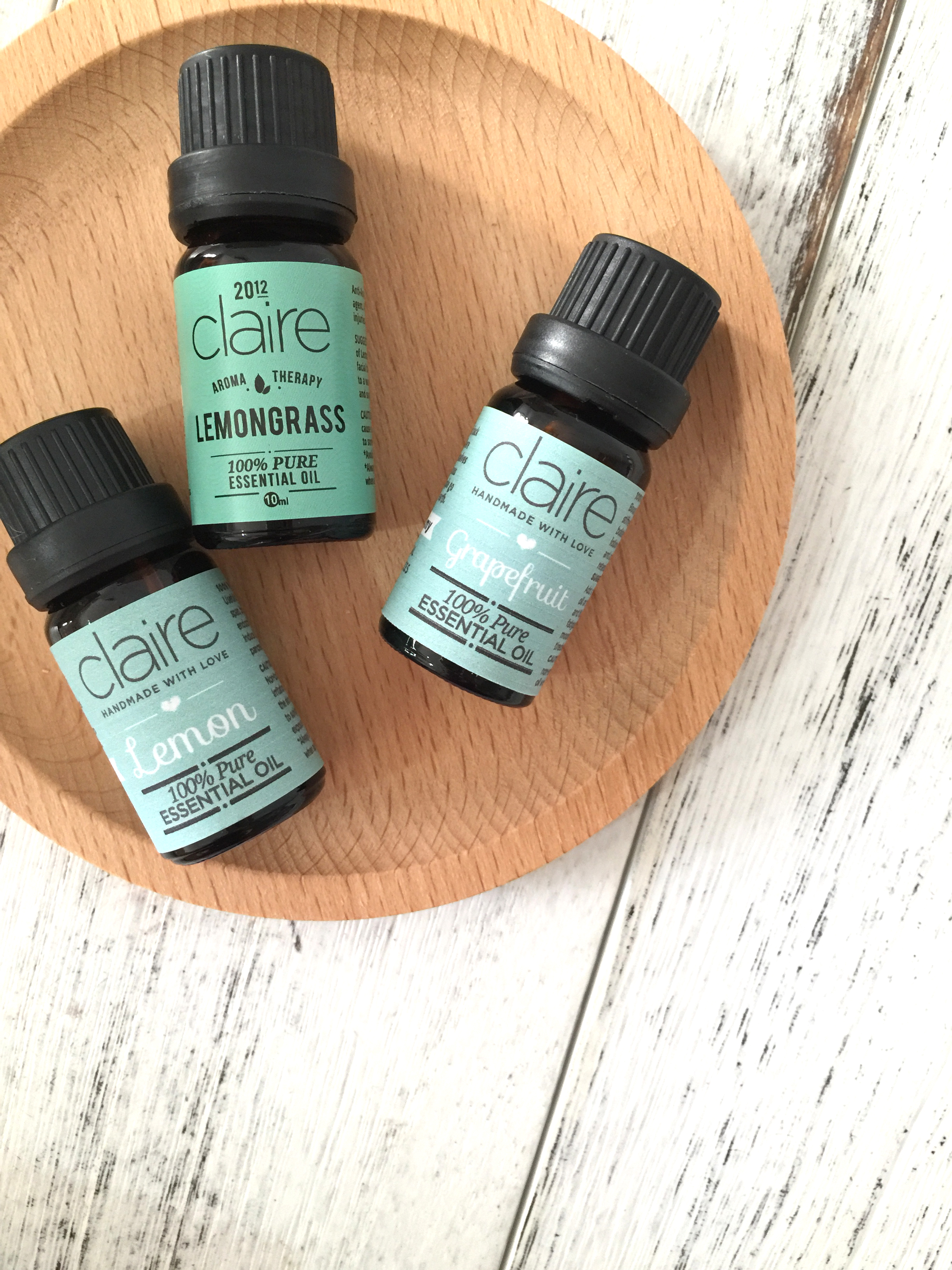 ---
ESSENTIAL OIL HOW-TO
1. DIFFUSE
Put a diffuser by your bed and diffuse oils while you sleep at night or in the family room while you're reading or winding down in the evening. Throughout the day, diffuse for work or study with oils that improves brain power or energy. This is also a good way to add the scent of an essential oil to a room.
2. INHALE
Clear your mind then inhale directly from an open bottle or rub a drop of oil between your palms and breathe in the aroma. Do as needed throughout the day. Several drops of essential oil are placed on a cotton ball or tissue and allowed to evaporate into the air.
3. SKIN APPLICATION
Besides your face and body, the most common places to apply oils are the bottoms of feet, chest, temple and pulse points. Apply 2 to 3 drops (a little goes a long way) right on the skin, or combine 5 to 10 drops with a Carrier Oil like Jojoba, Avocado or Rosehips oil.
IMPORTANT: Just because it's from a plant doesn't mean it's safe to rub on your skin, or breathe, or eat, even if it's "pure." Natural substances can be irritating or cause allergic reactions. Like anything else you put on your skin, it's best to test a little bit on a small area and see how your skin responds.
4. BATHS
Add 6-10 drops of essential oil to bath water or use with sea salts or Carrier Oil for a soothing bath and moisturised skin.
5. MASSAGE
When you visit the massage centre, it's always a good idea to bring your own favourite oil! Or give yourself a massage at home for a good night sleep. Make your own massage oil by adding 20-25 drops diluted to 1/2 cup of Carrier Oil. Start by massaging the feet as it allows oils to quickly absorb into skin.
6. SPRAY
Add 6-10 drops of essential oil to water in a glass spray bottle, shake well before use. Spray into the air to deodorise a room or set a refreshing mood. You might also want to use a solution of water and your favourite essential oil as a yoga mat cleaner. Always shake well before use.
ESSENTIAL OIL SAFETY TIPS
This guide is not meant as a substitute for medical advice. Definitely talk to your doctor for any medical condition!
If you have easily irritated skin, try using essential oils with a carrier oil first. If redness occurs, apply carrier oil to the area to dilute the essential oil.
Citrus oils can increase sun sensitivity so avoid sun for 12 hours after applying on skin.
To retain their potency keep essential oils stored away from sunlight and moisture.
Essential oils are extremely concentrated and can rub off nail polish and even melt plastic.
Avoid plastic containers for storing essential oils. Stick to glass bottles.
Oils, and carrier oils, can stain clothing, towels and furniture —so be careful!
Avoid using metal or plastic utensils or containers to mix or apply essential oils. Stick to glass or ceramic.
Always consult your doctor before using essential oils if you're on any medication prescription. Your doctor can make sure it's safe for you and rule out any side effects, like affecting your prescriptions.
Don't use essential oils on a baby unless your pediatrician says it's OK.
Keep all essential oils locked away out of children's sight and reach.
Stop using essential oils if you notice a rash, little bumps, boils, or just itchy skin -- take a break, gently wash it off with water.
Avoid essential oils if you're pregnant, include wormwood, rue, oak moss, Lavandula stoechas, camphor, parsley seed, clary sage, rosemary, and hyssop.
Customer comments
| Author/Date | Rating | Comment |
| --- | --- | --- |