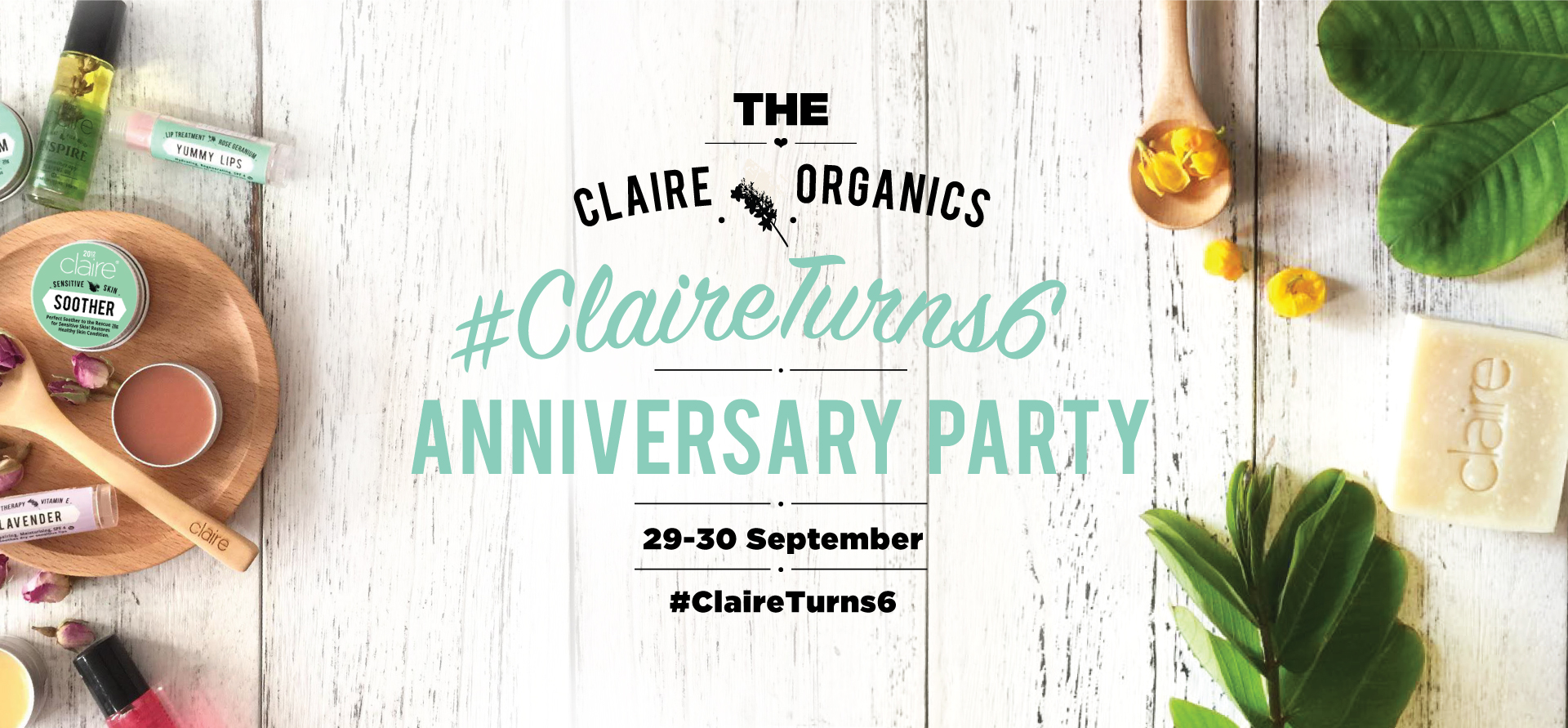 It's our 6th Birthday!
Join us in celebrating #ClaireTurns6,
Stay tuned to this page for #ClaireTurns6 Anniversary giveaways & special announcement!

凱如6岁了!
普天同庆凱如6周年庆,特别回馈多年来支持凱如的忠实粉丝们,别错过一系列的抽奖活动与周年庆特惠咯!😍
----------------------------------------------
CLAIRE ORGANICS ANNIVERSARY SALE
凱如6周年庆回馈日
Date: 29-30h September 2018
Time: 10am-10pm
----------------------------------------------
Storewide 凯如分店:
Sunway Velocity (Flagship 凯如旗舰店)
Gardens Mall
Starling Mall
Publika
Sunway Pyramid
www.claire.my


[ Special #ClaireTurns6 Collaborations ]
We bring you these amazing local-made artisanal brands, check them out, like them and win one yourself!
Giveaways on-going on this page!
| | | |
| --- | --- | --- |
| | | |
| Kaveh means coffee in Turkish, we are a mobile espresso bar, providing a exclusive on-site cafe experience. With our ultimate goal to increase the coffee culture awareness here in Malaysia, we hope Malaysians would better appreciate the various types and unique taste of coffee. #kavehMY | Inspired by pretty little things, Dear J Flower finds joy in creating premium and unique floral designs. Dear J takes pride in their demand for perfection for each of their product. #dearjflower | Ribbon Bunny is a home-based desserts bakery specialising in custom special occasion. Whatever your occasion requires, Ribbon Bunny is poised to deliver a sweet, elegant and flavorful experience. All of our desserts are made from scratch with the highest care and quality of ingredients. #ribbonbunny |
| | | |
| As a Bringer Of Joy, @alastegiel specialise in providing balloon services for Surprise Delivery, Balloon Bouquet, Surprise Box, Balloon Printing, Balloon Decoration Set Up for wedding, event, corporate dinner/event, birthday party, room decoration. #alastegiel | Lecasa_decor started in early 2016, where we started off small by doing birthday table decorations. With all your supports we're now expanded our business to baby shower, wedding photo corner and nevertheless marriage proposal. You could even have a customise your event decorations with us! #lecasadecor | Blue Ribbon Bakery focuses on providing quality cakes and desserts using premium ingredients. We take on customized orders to ensure each clients. needs and preferences are met. We offer desserts such as brownies, mini tarts, custom cupcakes, macarons, cookies and custom cakes. #blueribbonbakery |
| | | |
| Flower and Herb fusion adhere on hand-made natural flower & herb tea. Innovative vacuum teabag packaging to keep the freshness and natural taste of flower herb. Using the most effective and simple way to brew the flower & herb tea to achieve healthy lifestyle and maintenance of health. #草本吧#flowerandherbfusion | The Honey Hearts emphasizes on its product in delivering excellent customer satisfaction. Each and every Honey Hearts jars are hygiene packed, sealed and is safe to consume anytime of the day. All our products have not gone through any artificial process, flavoring or reduced sweetening. | As passionate proponents of good food, we are obsessed with the creation of healthy alternatives. Using great quality raw ingredients and meticulous preparation, we create fun combinations that taste amazing. The result? Snacks that you can truly call Amazin' Graze! SNACKING NEVER FELT SO GOOD! #Amazingraze |
We look forward to seeing you there!