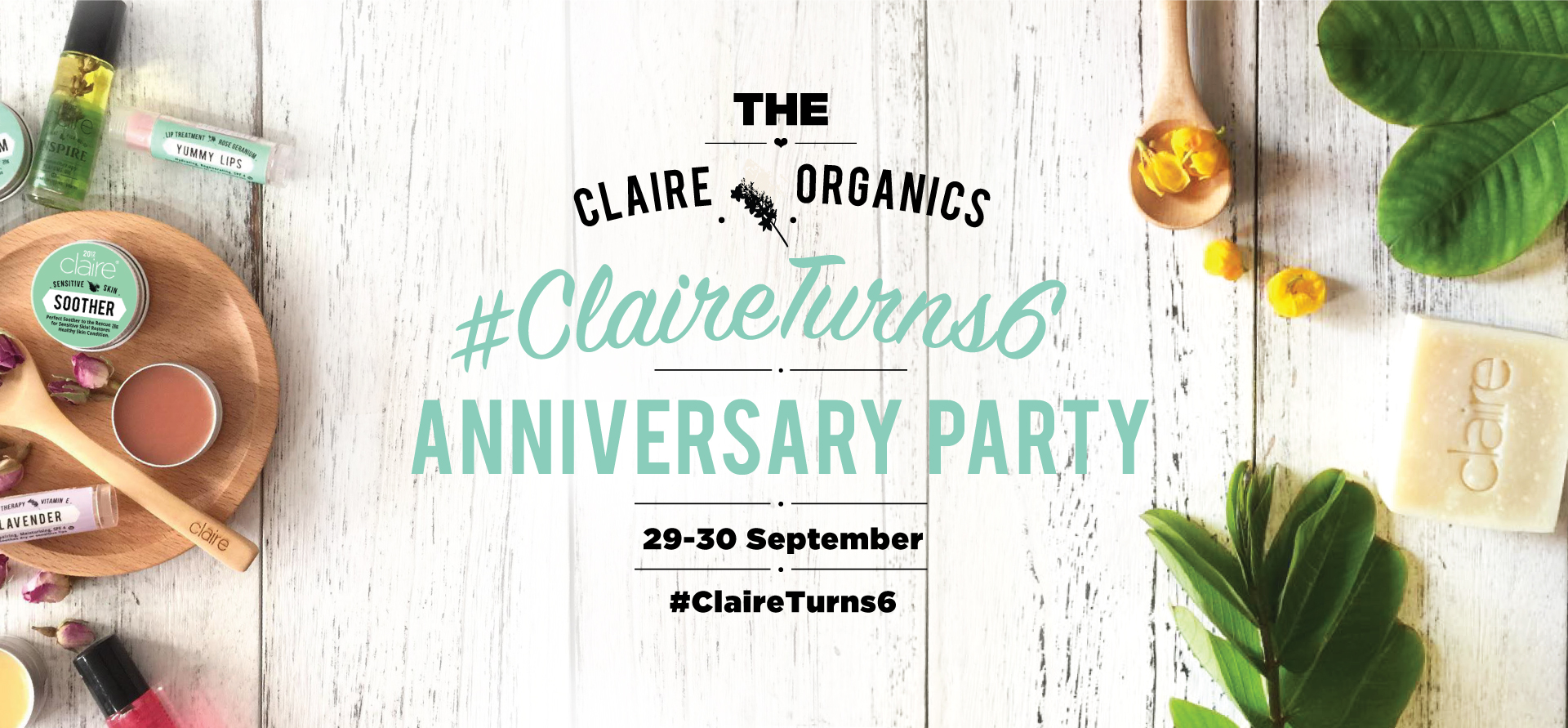 It's our 6th Birthday!
Join us in celebrating #ClaireTurns6,
special thanks for everyone who celebrates with us!

凱如6岁了!
普天同庆凱如6周年庆,特别回馈多年来支持凱如的忠实粉丝们,感谢大家的拥戴!

CLAIRE ORGANICS 6TH ANNIVERSARY CELEBRATION
凱如6周年庆
Date: 29-30h September 2018
Time: 10am-10pm

Storewide 凯如分店:
Sunway Velocity (Flagship 凯如旗舰店)
Gardens Mall
Starling Mall
Publika
Sunway Pyramid
www.claire.my


[ Special #ClaireTurns6 Collaborations ]
We bring you these amazing local-made artisanal brands, check them out, like them and win one yourself!
Giveaways on-going on this page!
Congrats to all the lucky draw winners!


Kaveh means coffee in Turkish, we are a mobile espresso bar, providing a exclusive on-site cafe experience. With our ultimate goal to increase the coffee culture awareness here in Malaysia, we hope Malaysians would better appreciate the various types and unique taste of coffee. #kavehMY

Inspired by pretty little things, Dear J Flower finds joy in creating premium and unique floral designs. Dear J takes pride in their demand for perfection for each of their product. #dearjflower

Ribbon Bunny is a home-based desserts bakery specialising in custom special occasion. Whatever your occasion requires, Ribbon Bunny is poised to deliver a sweet, elegant and flavorful experience. All of our desserts are made from scratch with the highest care and quality of ingredients. #ribbonbunny





As a Bringer Of Joy, @alastegiel specialise in providing balloon services for Surprise Delivery, Balloon Bouquet, Surprise Box, Balloon Printing, Balloon Decoration Set Up for wedding, event, corporate dinner/event, birthday party, room decoration. #alastegiel

Lecasa_decor started in early 2016, where we started off small by doing birthday table decorations. With all your supports we're now expanded our business to baby shower, wedding photo corner and nevertheless marriage proposal. You could even have a customise your event decorations with us! #lecasadecor

Blue Ribbon Bakery focuses on providing quality cakes and desserts using premium ingredients. We take on customized orders to ensure each clients. needs and preferences are met. We offer desserts such as brownies, mini tarts, custom cupcakes, macarons, cookies and custom cakes. #blueribbonbakery





Flower and Herb fusion adhere on hand-made natural flower & herb tea. Innovative vacuum teabag packaging to keep the freshness and natural taste of flower herb. Using the most effective and simple way to brew the flower & herb tea to achieve healthy lifestyle and maintenance of health. #草本吧#flowerandherbfusion


The Honey Hearts emphasizes on its product in delivering excellent customer satisfaction. Each and every Honey Hearts jars are hygiene packed, sealed and is safe to consume anytime of the day. All our products have not gone through any artificial process, flavoring or reduced sweetening.

As passionate proponents of good food, we are obsessed with the creation of healthy alternatives. Using great quality raw ingredients and meticulous preparation, we create fun combinations that taste amazing. The result? Snacks that you can truly call Amazin' Graze! SNACKING NEVER FELT SO GOOD! #Amazingraze





Established in 2007, DRESS UP Shop Sdn. Bhd., with its brand DRESS UP, is specializing in effortlessly chic female apparels for all sophisticated women.
➕ OOTD/styling inspirations
➕ Follow us on IG: @dressupkl
➕ Like us on FB: fb.com/dressupkl
➕ Join our WhatsApp group for regular updates: https://chat.whatsapp.com/
K2TvCIdFnxt8PhOYLC2zfR ➕ Also on fashion portal www.morekl.my (IG: @morekl.my)
➕ New showroom coming soon.

Cocoraw Chocolates is a homegrown brand conceived in mid-2016, with a simple notion; to offer great tasting chocolates at accessible prices. We like to spice it up with a local flair, infusing local flavours such as Gula Melaka and Teh Tarik in our melt-in-the-mouth chocolates. Every so often, we come up with a seasonal item showcasing Malaysian ingredients or origins so stay updated on our social media or visit Cocodash, our kiosk in Bangsar. Order @cocoraw.me / www.cocoraw.me

NATSU, a nail parlor that provides you not only a series of mani-pedi services but also hand and foot spas, nail care and so much more. We use imported brands like OPI, BANDI, Trinity and etc. We have a range of long-term packages and also affordable promotions that cater to your needs. Check us out: @natsunailsbeauty





Simply K is a collection of exquisite hair accessories that are thoughtfully hand-crafted with precision and meticulous detail, using only the finest quality materials. Designed and founded by Kamae Lee in January 2012, Simply K's designs are delicately handcrafted using imported grosgrain ribbons, Italian cotton and accented with fresh water pearls and other man-made materials. All crystal elements on Simply K accessories are made only with genuine Swarovski crystals imported from Austria. The combination of style, elegance and quality make Simply K accessories the perfect way to crown your look. Order @ www.simplyk.co

Specialised in Premium Tea Cookies and Customised Cakes

Renewallife is one of the healthy snack brands imported by Green Wellness since year 2014. Green Wellness is the importer and online retailer that focuses on distribution of non-toxic healthy premium products, ranging from babies & kids, nutritional supplements and remedies, cosmetics and skin care, personal care, groceries as well as home and pet care. Renewallife is located in Yangpyeong, South Korea which is known as an Eco City – a rich farming land that produces safe and eco-friendly agricultural products. Made with the finest chemical-free and pesticide-free fresh produces from Eco City, Renewallife creates tasty combinations of wholesome ingredients that are indeed like no others. Renewallife puts all its efforts into improving people's health through nature-based management – including you and your loved ones. Order @greenwellnessmy

special thanks for everyone who celebrates with us!