" I have used this lip balm, and the product is very good. I have even bought this for my mum and my wife. They too love it very much. " - Men**


[ BUY 1 FREE 1 ] - Available for online delivery only. Not valid for self-collection at outlet.
LIP BALM
Perfect choice for anyone who deserves a lips pampering
Best for sensitive or dry lips.
Lip Gloss for the day, Lip Mask for the night!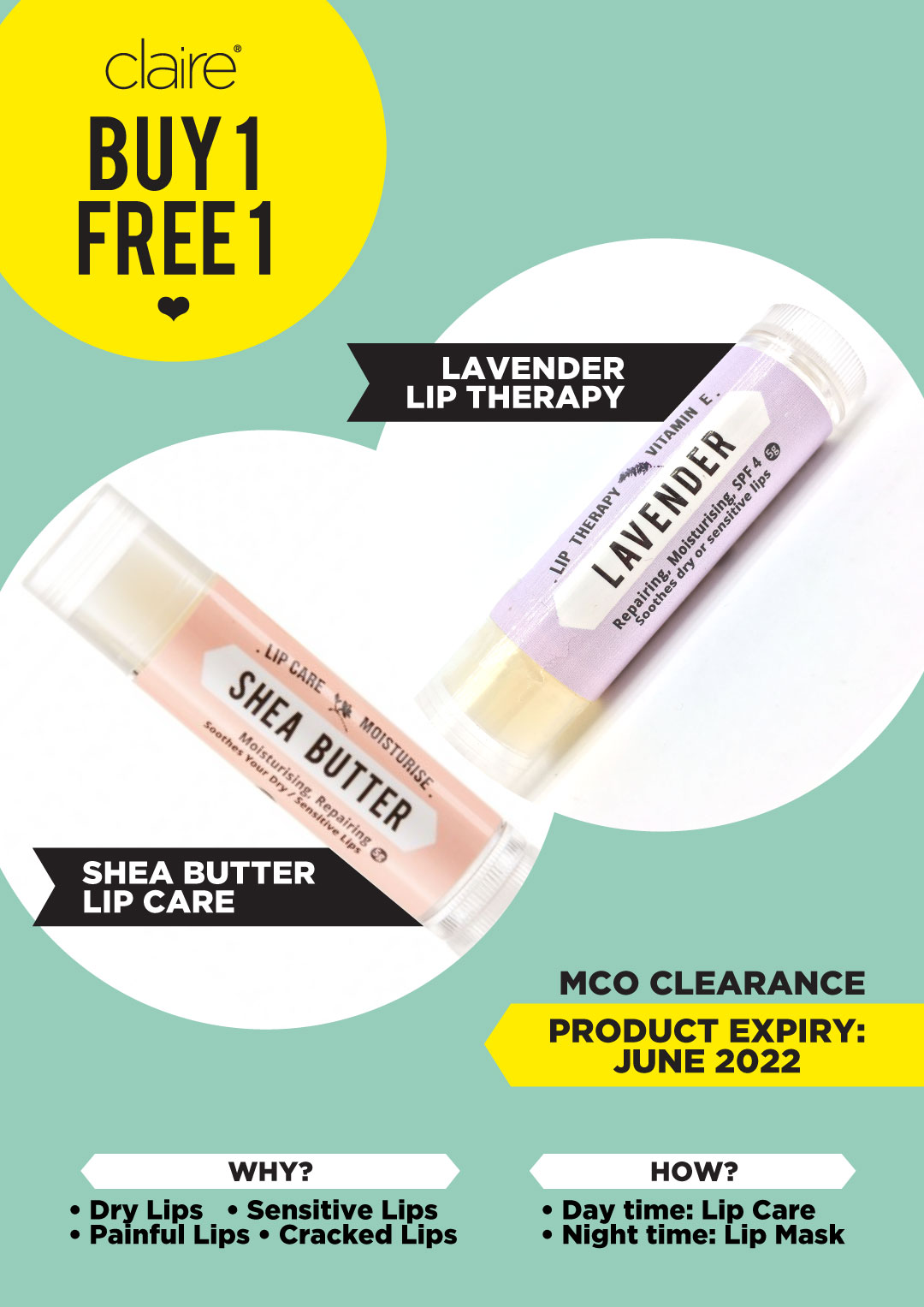 IN THIS BUNDLE:

• Shea Butter Lip Balm
Nourishing, Regenerating, Hydrating, Soothing for your dry / sensitive lips.
Shea butter is traditional used to reduce the appearance of fine lines, scars and stretch marks, and to ease a variety of skin irritations.

• Lavender Lip Care with Vitamin E
Rejuvenating, Hydrating, Nourishing for your dry / sensitive lips.
Pure vitamin E oil is helpful for scar reduction and prevention because it goes beneath the surface of skin to block free radicals.


ALL TIME FAVOURITE
Daily Lips Treatment

Use in the day:
Indoor / Outdoor - Protection against the harsh weather or air-conditioning that dries up your lips.

Use in the night:
Apply a thick layer before bedtime, pamper your lips to a full night of intensive treatment, and feel the magical touch on your lips the next day!


6g /each • Each tube is carefully handmade and manually packed to retain the quality freshness


T&C apply:
• Goods sold are strictly not for resell, not refundable, not returnable.
• Promo valid whilst stock last
---

Happy Customer,


Clea says,

" I've been using your lip balm for about 2 years now. Love it! My sensitive lips can't use off the shelf kinda commercial lip balm. "

Chloe says,

" Purchased Soother Balm and Lip Balm. Lip balms are moisturising. And soothes our sensitive lips of myself and my son which gets itchy and dry. "

Jac** says,

" Love the shea butter! Very moisturising. Use it during the night too. "


Men** says,

" I have used this lip balm, and the product is very good. I have even bought this for my mum and my wife. They too love it very much. "


Soo** says,

" Superb moisture !! Amazed by this lipbalm. I always apply it before sleep, and it just make my lips feel so good. Now I can keep away Vaseline. "






Customer comments
| Author/Date | Rating | Comment |
| --- | --- | --- |