RAYA LOVE!
Gift Set
Selamat Hari Raya!
Dengan ingatan tulus ikhlas, maaf zahir batin.
Celebrate with Claire in this warmest joyous Raya season.

In our #supportlocal initiative, We're teaming up with @rhymbahillstea to bring you more local quality conscious products!

IN THIS GIFT

• RHYMBA HILLS® LEMONGRASS BLEND
Sugar free and caffeine free. Rhymba Hills® Lemongrass Blend is craftily blended with the citrusy Lemongrass, tangy Kaffir Lime Leaves and the 'Asian' vanilla, Pandan, to give you a soothing taste and aroma that you would want more. Perfect for those who: Have constipation, insomnia, Bloatedness, Indigestion.
Ingredients: Lemongrass, Kaffir Lime Leaves, Pandan
Size: 10 sachets x 2 gram
Halal Certified
Customer Testimonies:
"Rhymba Hills Lemongrass Blend is my favourite. It has a unique fresh aroma most pleasant to my taste bud. Immediate bowel movements observed on the 1st refill. I will definitely recommend for any person who has irregular bowel movements. Thumbs up to Rhymba Hills" - Elaine Kum, Director
• FIRST KISS TINTED LIP BALM
As sweet as can be, just like your first kiss.
A dreamy lip balm goes beyond hydration.
• LAVENDER CALMING SOAP
One of our best-selling soaps!
A calming and relaxing natural soap that's handcrafted for everyone.

• BUBBLY SOAP SAVING PPUCH
Soap Saver to protect your precious handcrafted soap, and lather up easily. Double up as scrubber too!

• LIMITED EDITION GIFT BOX (Free!)
• HARI RAYA CARD (Free!)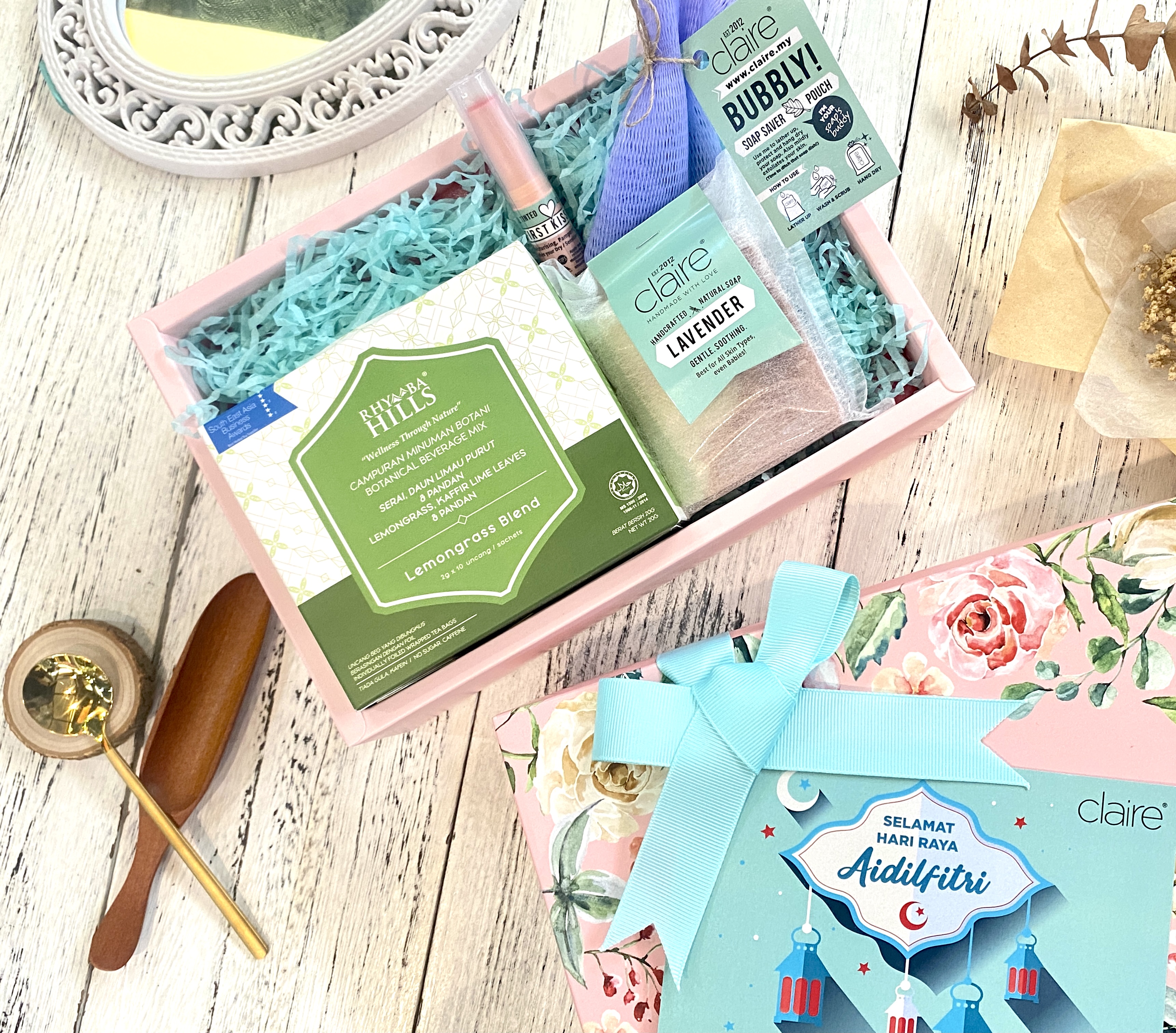 ---
Happy Customer,

Nur says,
" I'm in love with this lip tint! Gives my lips natural pink-colour. "

Cha says,
''Using this first kiss lip balm to kiss my first love ❤️''

The says,
''Moisturizing and really like the colour on my lips''

Lai says,
" Love the smell of lavender soap "


---

DID YOU KNOW?

1.Why Handmade Soap?

Handmade soaps from talented artisans use fresh and natural high-quality ingredients such as essential oils, shea butter, olive oil, oatmeal, or goat's milk so it doesn't harm your skin in the long run.


2. Daily Lips Treatment

Use in the day:
Indoor / Outdoor - Protection against the harsh weather or air-conditioning that dries up your lips.

Use in the night:
Apply a thick layer before bedtime, pamper your lips to a full night of intensive treatment, and feel the magical touch on your lips the next day!
Customer comments
| Author/Date | Rating | Comment |
| --- | --- | --- |