MY SWEET LADY
Gift Set
Perfect pampering gift for My Sweet Lady!
All natural, handcrafted with love.



IN THIS GIFT


• ROSEHIP ANTI-AGING SOAP
All-natural handcrafted soap.
Best for all skin type, face & body.

• BUBBLY SOAP SAVING PPUCH
Soap Saver to protect your precious handcrafted soap, and lather up easily. Double up as scrubber too!

• FIRST KISS TINTED LIP BALM
As sweet as can be, just like your first kiss.
A dreamy tinted lip balm goes beyond hydration.

• ROSEHIP WHITENING SEA SALT SCRUB
Exfoliator for smooth skin. Moisturising for dry skin.

• WOODEN SPOON SPATULA
Perfect companion to your natural scrub. 2-3 scoop to gently massage away or for a relaxing bath soak.

• SOOTHER BALM
Perfect Soother to the Rescue for Sensitive Skin!
Restore Healthy Skin Condition.

• EXCLUSIVE GIFT WRAP BOX (Free!)

• CARD (Free!)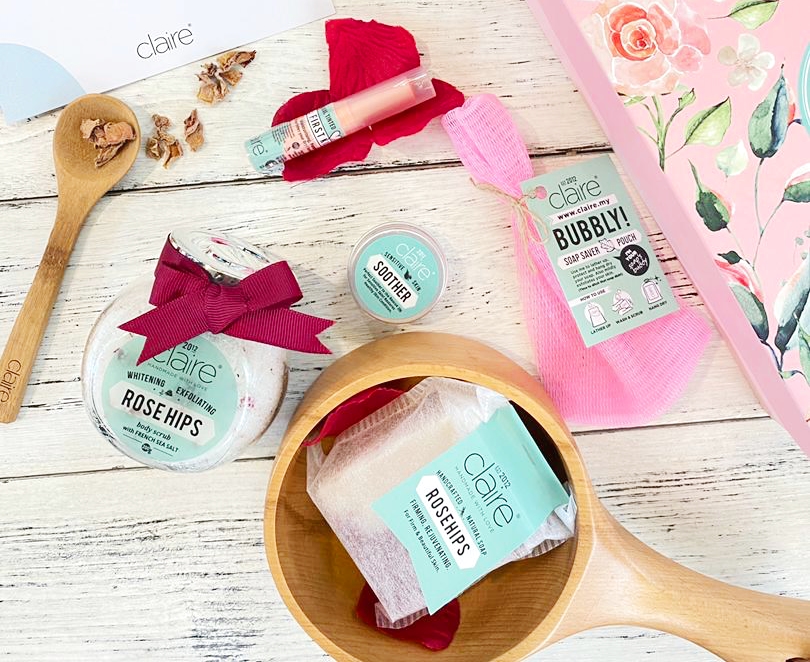 ---
Happy customer,



Emily says,
ONE is never enough!
" I placed one in my handbag, one at my bedside table, one at my office desk, one in my kid's bag, one for my granny and one for my best-friend who suffers from Eczema. All handy to keep that annoying itch and mosquitoes away! "


Deb says,

" Really good body scrub that calms and moisturizes. Very natural and smells so nice too "


Nur says,

" I'm in love with this lip tint! Gives my lips natural pink-colour. "


Bee says,

" I tried the soap for few weeks now and I notice my skin felt different it feels softer and my face glowing :-) :-) :-) "



---

DID YOU KNOW?

1. How to use BODY SCRUB ?

Best time to use our body scrub after shower: (before towel dry)
- Gently massage on damp skin in circular motion, focus more on rough skin area
- Rinse well with water
- Towel dry
- Enjoy softness of skin


2. Daily Lips Treatment

Use in the day:
Indoor / Outdoor - Protection against the harsh weather or air-conditioning that dries up your lips.

Use in the night:
Apply a thick layer before bedtime, pamper your lips to a full night of intensive treatment, and feel the magical touch on your lips the next day!

3. Soother Balm is our best-seller, best to soothe sensitive skin:

- Eczema
- itchiness
- rashes
- insect bites
- acne
- headache
- nausea
- etc
Customer comments
| Author/Date | Rating | Comment |
| --- | --- | --- |