NATURAL HAIR CARE SERIES
RM82 (value RM90)

IN THIS SET

• Camellia Hair & Scalp Shampoo Bar
Treats sensitive scalp.
For healthy scalp and smooth-silky hair.
Best for sensitive or normal scalp.

• Clary Sage Hair & Scalp Treatment Oil
All-in-1 hair & scalp treatment for smooth and healthy hair.
Best for sensitive or normal scalp.

• Bubbly Soap Pouch - Free!
Your Handmade Soap's best buddy.
Keep your soaps dry after each use to last longer.


T&C apply
• Valid for all outlets / online order
• Not valid with member/ other offer
---
Happy Customer,


Bee*** says,

" Very satisfied.
- So far I'm satisfied with the soap. I have oily hair and dandruff after using the soap for 2 weeks I don't feel my hair is greasy and itchy. "

Mik* says,

" This will be my 4th purchase, absolutely loving it. Managed to convince my bf to drop commercial shampoo and his hair falls has reduced by 80% after switching. Definitely recommend to people whom not only has itchy scalp but also has hair fall problems. "

Annette says,
" I've tried your Camelia Soap and the Clary Sage Hair & Scalp Treatment Oil. It's really good. Used it twice so far after I bought it. I'm surprised the soap doesn't dry up the hair but both worked together to give the hair a very soft feeling and looks more volume. Even dandruff is gone. I hope in long run it really helps with my hair fall. Yeah nothing seems to work with the normal anti dandruff or anti hair fall shampoo. I'll definitely recommend it to my relatives after I've used it for some time. "

Kimberly says,
" This is very very good and the smells is very good too and you have the Lavender one as well ... loving both of it and thank you Claire for great stuff and my hair is better now ... most of your products is my life saviour .... ❤️❤️❤️ "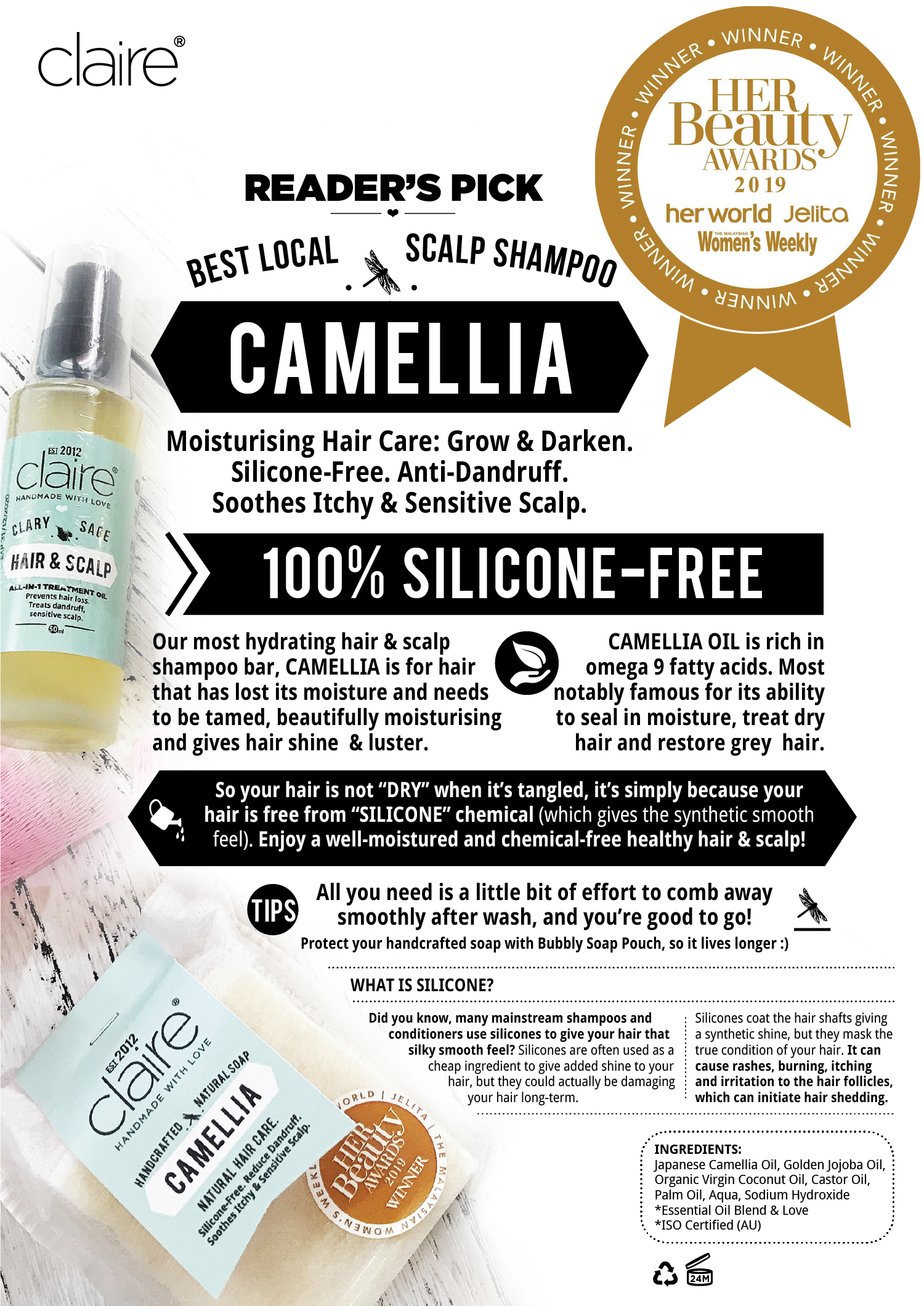 SPECIAL NOTE:
What to expect with this Hair Care product?
Patience is the key when comes to switching your hair care from commercial to natural. There is often a "detox" period where you hair may feel stiff, dangling, sticky, oily, heavy, or dry. The myriad of synthetic products that are so often in our commercial shampoos and conditioners artificially coat the hair with plastic or protein polymers to make it look and feel undamaged. The more damaged the hair, the more porous it becomes; the more porous the hair, the more it absorbs these synthetic "protein" polymers (e.g. soy, wheat or oat proteins – that are NOT edible foods), plastic polymers such as PVP (petrochemical polyvinyl pyrrolidone) and gum coating agents.
Until the residues of protein and plastic polymers have been completely removed your hair will take some time to heal from all the chemicals… leaving it feeling a little less than "ideal." But if you're patient, the end result is worth the wait! As new hair grows in to replace old damaged hair, you'll probably be amazed at the difference. Then again, for some with very chemically damaged hair, they may not like the way their hair feels after the detox, because this all-natural Hair Care Soap contains none of the vinyl or protein plastic polymers to coat their hair to make it feel or look undamaged.
100% SILICONE-FREE
Our most hydrating solid shampoo, Camellia Hair & Scalp Shampoo Bar is for hair that has lost its moisture and needs to be tamed, beautifully moisturising and gives hair shine & luster.
Camellia Oil is rich in omega 9 fatty acids. Most notably famous for its ability to seal in moisture, treat dry hair and restore grey hair.
TIPS
So your hair is not "DRY" when it's tangled, it's simply because your hair is free from "SILICONE" chemical (which gives the synthetic smooth feel). Enjoy a well-moistured and chemical-free healthy hair & scalp! All you need is a little bit of effort to comb away smoothly after wash, and you're good to go!
Protect your handcrafted soap with Bubbly Soap Pouch, so it lives longer :)

Quick Tips To Make Your Transition Easier!
Change Your Shampoo Technique:
The "weird hair" feeling happens most often when the soap residue does not completely rinse out of your hair. Be sure to work up a good lather and rinse, rinse, rinse. You might find it helpful, especially in the beginning, not to rub the bar directly on your hair. Lather the soap in Bubbly Soap Pouch to create foam, and only use the foam to wash.


WHAT IS SILICONE?
Did you know?
Many mainstream shampoos and conditioners use silicones to give your hair that silky smooth feel? Silicones are often used as a cheap ingredient to give added shine to your hair, but they could actually be damaging your hair long-term. Silicones coat the hair shafts giving a synthetic shine, but they mask the true condition of your hair. It can cause rashes, burning, itching and irritation to the hair follicles, which can initiate hair shedding.

Congrats when you successfully pass the transition period!
Now enjoy your luxurious & healthy hair!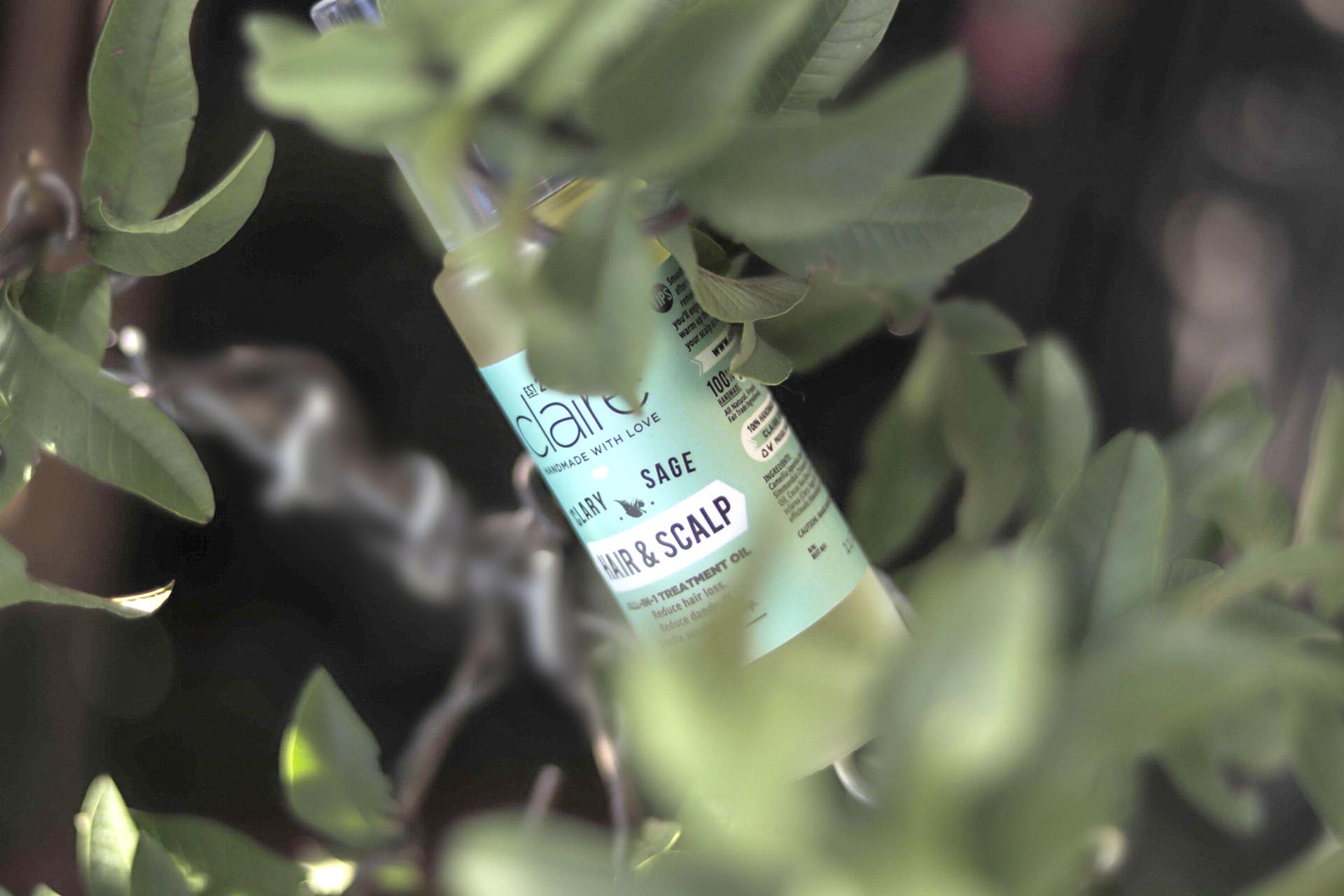 HOW TO USE?
SCALP TREATMENT
BEFORE WASH
SCALP MASK: Intensive treatment for Preventing hair loss, treating dandruff,
flaky scalp, split ends, scalp eczema, sensitive scalp, itchy scalp
Directions:
1. Pump out a good amount of Clary Sage Hair & Scalp Treatment Oil (About 2-3 pumps for mid-length).
2. Warm it in your palm for a second and apply to your hair, gently massage into the scalp and working it down through the ends.
3. If your hair is long twist it up into a bun. Cover your hair with a shower cap or a damp (clean) towel.
4. Let the treatment sit for 15-30 minutes.
5. Wash with the foam lathered from Camellia Hair Care Soap, this miracle oil works as a conditioner as well!
6. Blow dry and style like you normally would. You will be amazed at how soft and beautiful your hair looks and feels!


HAIR TREATMENT
AFTER WASH
LEAVE-ON HAIR TREATMENT:
Tamed frizzy hair, treat split ends, detangling and smoothening
Directions:

1. Wash and dry your hair as usual.

2. Apply Clary Sage Hair & Scalp Treatment Oil and give your hair what it so desperately needs, a nutritious intervention. Warm 1 pumps of oil in your palm and smooth it through bottom half of your semi-wet hair.

3. Add another pump if desired, usually 1 pump is sufficient to avoid overly coated hair.

4. Blow dry and style like you normally would. You will be amazed at how soft and beautiful your hair looks and feels!
Effectively treats dull, damaged, tangled, dry hair or split ends.
Voila, enjoy luxury hair at home!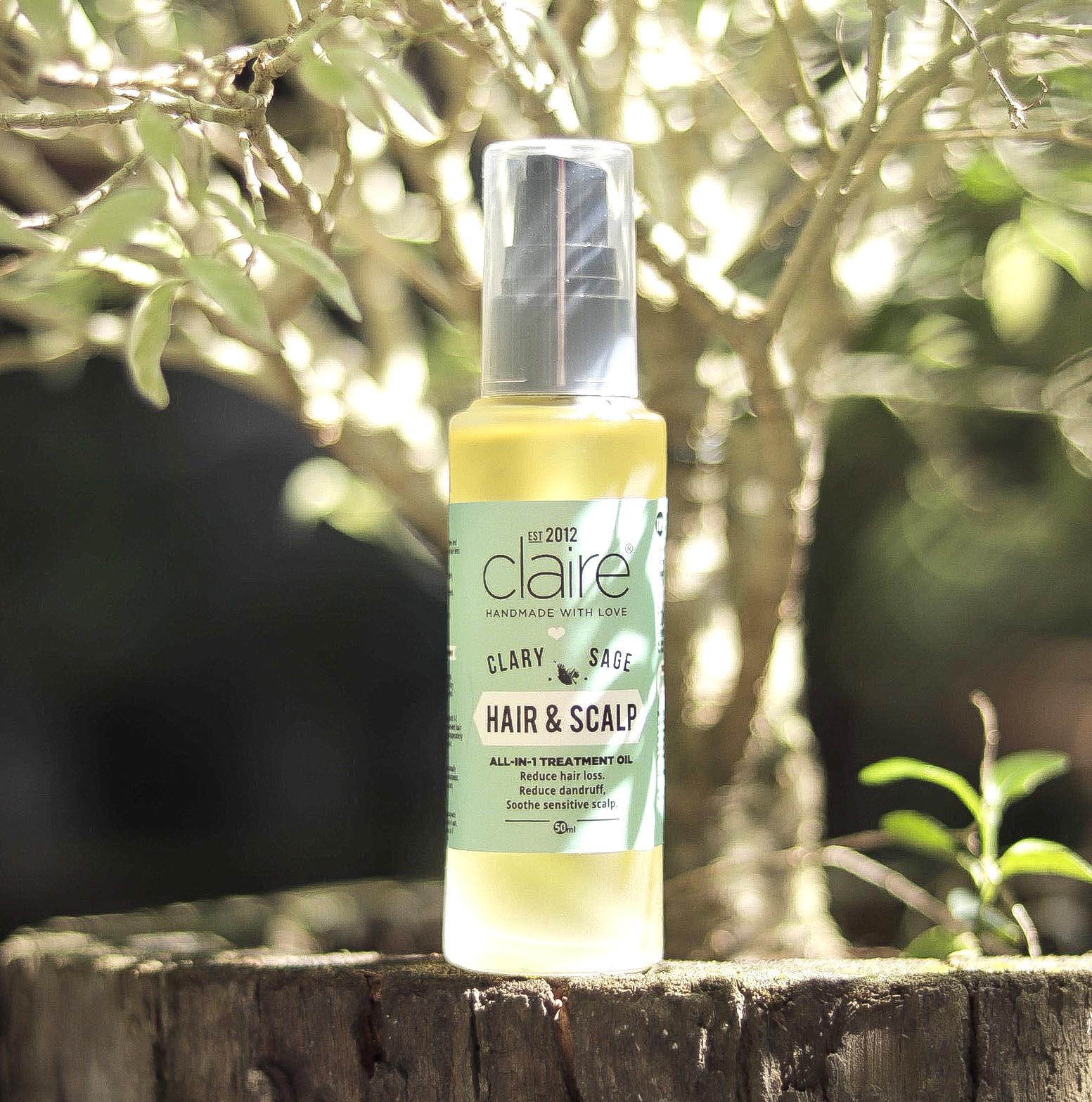 Customer comments
| Author/Date | Rating | Comment |
| --- | --- | --- |