"Dear Daddy,
no matter where I go in life,
you'll always be my number one man."



THANKS DAD!
Perfect pampering gift for Daddy Dearest to show him how much you care!
IN THIS GIFT
Choose of one type chips : (Salted Egg / Pandan Gula Melaka Granola)
• KINTRY SALTED EGG CHIPS
Thinly sliced potatoes with REAL salted egg yolks, fragrant curry leaves and fiery chili.

OR
• KINTRY PANDAN GULA MELAKA GRANOLA
Delicious high-fibre snack. Fresh pandan leaves steeped in a gula melaka concoction. Rolled oats are then added and slow roasted with almonds, chia seeds and coconut flakes.

• PATCHOULI SOAP
Best-selling Soothing Soap for Sensitive Skin.
All-natural handcrafted soap for face & body.

• BUBBLY SOAP SAVING POUCH
Soap Saver to protect your precious handcrafted soap, and lather up easily. Double up as scrubber too!

• SOOTHER BALM
Perfect Soother to soothe Sensitive Skin!
Restore Healthy Skin Condition.

• LIMITED EDITION GIFT BOX (Free!)
• FATHER'S DAY CARD (Free!)

Complimentary:
Personalised Gift Tag along with the signature gift box, please provide your special message for the gift tag in remark during checkout.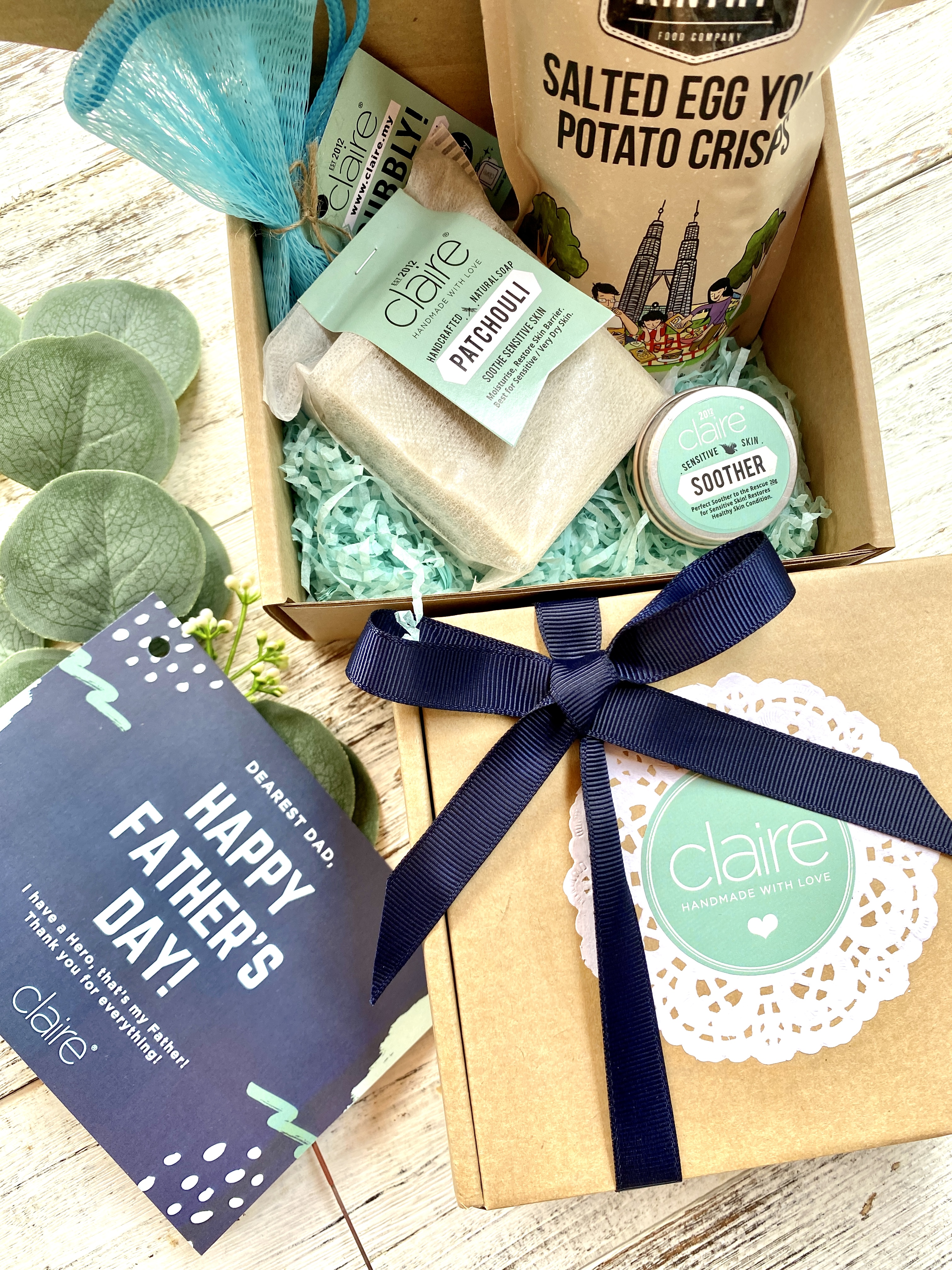 ---

Happy customer,


Wen Says,

" I have use so long time for this brand, patchouli soap and the soother balm does help me survive a lot "

Emily says,

ONE is never enough!
" I placed one Soother Balm in my handbag, one at my bedside table, one at my office desk, one in my kid's bag, one for my granny and one for my best-friend who suffers from Eczema. All handy to keep that annoying itch and mosquitoes away! "


---
DID YOU KNOW?

1.Why Handmade Soap?

Handmade soaps from talented artisans use fresh and natural high-quality ingredients such as essential oils, shea butter, olive oil, oatmeal, or goat's milk so it doesn't harm your skin in the long run.


2.Soother Balm is our best-seller, best to soothe sensitive skin:

- Eczema
- itchiness
- rashes
- insect bites
- acne
- headache
- nausea
- etc


Customer comments
| Author/Date | Rating | Comment |
| --- | --- | --- |