A mother
is she who can take the place of all others
but whose place no one else can take. ❤
BIGGEST LOVE
Perfect pampering gift for Mommy Dearest!
All natural, handcrafted with love.
(AND SMELLS SOOOOOOOO GOOOOOOD!)
IN THIS GIFT

• MINI BOUQUET : PRESERVED FRESH FLOWER
Limited Edition Retro Korean style mini preserved fresh floral bouquet.
Adding sweetness to your love for Mommy Dearest. Random design available (varies from sample photo).

• LUXURIOUS ROSEHIP FACE & BODY OIL
Apply as night cream before bedtime/ apply on dry skin after bath (when your skin gets too dry, it can easily become scaly, rough or tight, itchy, which can lead to an sensitive flare up)

• LAVENDER SEA SALT BODY SCRUB
Exfoliator for smooth skin.
Moisturising for dry skin.

• WOODEN SPOON SPATULA
Perfect companion to your natural scrub. 2-3 scoop to gently massage away or for a relaxing bath soak.

• YUMMY LIPS
Intensive Lips Treatment for dry or sensitive lips.
Lip Gloss for the day, Lip Mask for the night!

• MULBERRY WHITENING SOAP
All-natural handcrafted soap.
Best for all skin type, face & body.

• BUBBLY SOAP SAVING POUCH
Soap Saver to protect your precious handcrafted soap, and lather up easily. Double up as scrubber too!

• MOTHER'S DAY RATTAN GIFT BOX (Free!)

• MOTHER'S DAY CARD (Free!)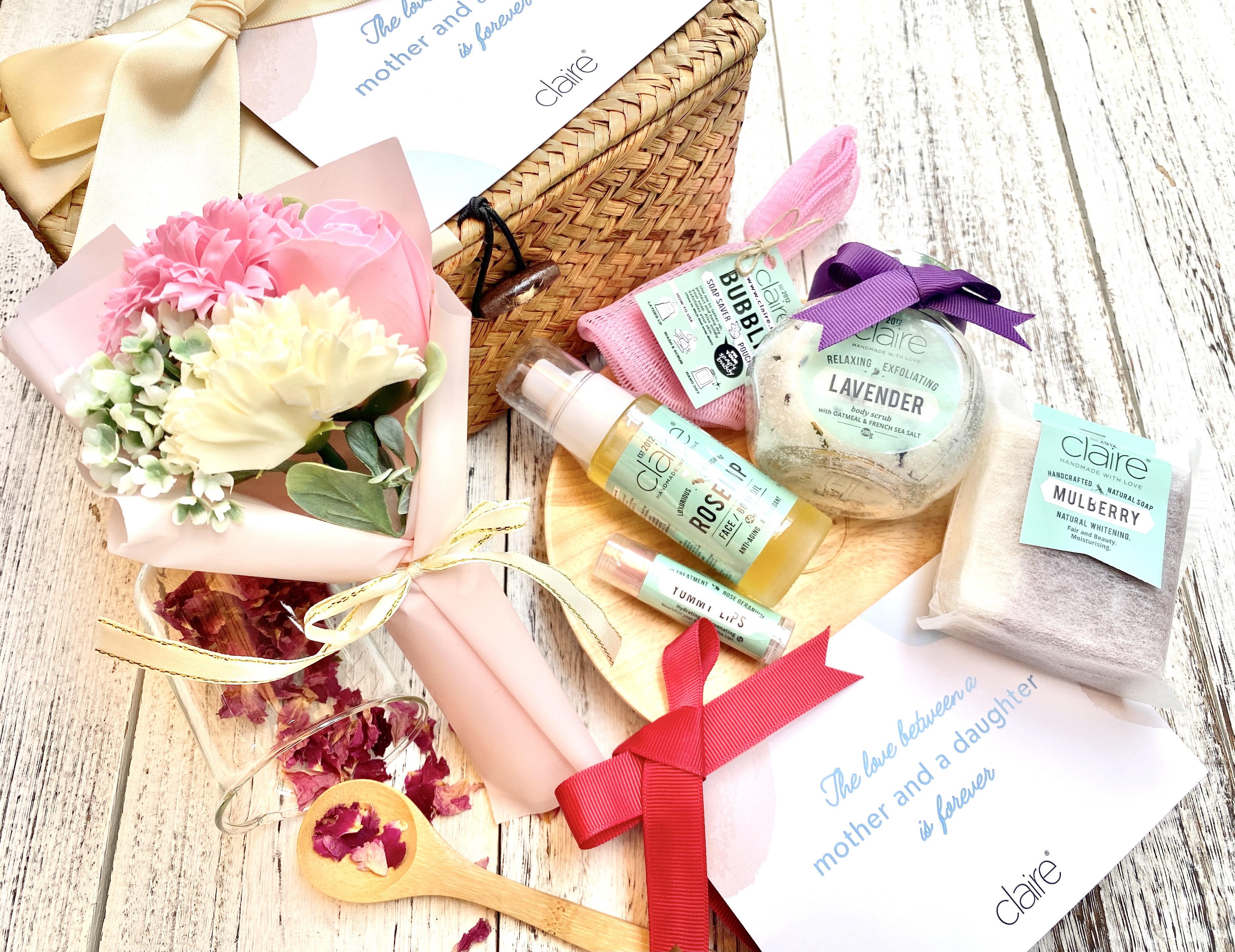 ---
Happy customer,


Anja says,

" Hi! I have been using the Rosehip Face/Body Oil for the pass 2 years and I'm half way through my 5th bottle. I love it and it's the best decision I've made for my facial care. My skin is more even and supple as compared to few years back when I was just entering my 30s. "

Deb says
,
" Really good body scrub that calms and moisturizes. Very natural and smells so nice too "

Eve says,

" Love the Yummy Lips the most, this is my 4th tube. It's suitable for sensitive lips. I feel lips are moisturised whole day after applied. Amazing ❤️❤️❤️. Cheers "


Bee says,

" I tried the soap for few weeks now and I notice my skin felt different it feels softer and my face glowing :-) :-) :-) "



---

DID YOU KNOW?



1. How to use BODY SCRUB ?

Best time to use our body scrub after shower: (before towel dry)
- Gently massage on damp skin in circular motion, focus more on rough skin area
- Rinse well with water
- Towel dry
- Enjoy softness of skin


2. Daily Lips Treatment

Use in the day:
Indoor / Outdoor - Protection against the harsh weather or air-conditioning that dries up your lips.

Use in the night:
Apply a thick layer before bedtime, pamper your lips to a full night of intensive treatment, and feel the magical touch on your lips the next day!

3. How to use Luxurious Rosehips Face & Body Oil?

• Apply on face after toner, use as night cream.
• Add a few drops on cotton pad, use as makeup remover to remove lip stick, mascara, eyeliner.
• Use as soothing massage oil, for a goodnight sleep and sweet dreams
Customer comments
| Author/Date | Rating | Comment |
| --- | --- | --- |