Claire Organics Essential Oils Customized Gift



Choose Your Favourite Essential Oil Gift Set
WITH LIMITED EDITION GIFT BOX (Free!)

All Natural & 100% Pure Aromatherapy Essential Oils
Just the way you like it! (3pcs x10ml)
[ 3 for RM99 ]
Save RM19

Choose Any 3x Essential Oils
(valid for RM36 series only), Selection from this list:

• Lavender
• Sweet Orange
• Grapefruit
• Lemongrass
• Lemon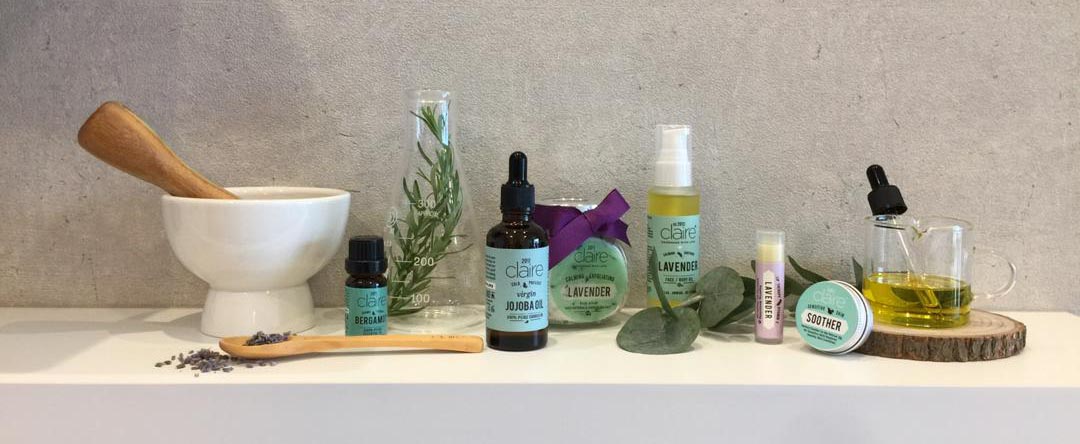 100% Pure Essential Oil
• 10ml
• ISO Certified
• 100% imported from Australia
SUGGESTED USES
Diffuse, add a few drops to your bath or lotion, or a few drops to a spray bottle of water to use as room spray, the usage is endless! Have fun blending with other scents!
TO DIFFUSE: Combine all the oils according to the recommended ratio into your essential oil diffuser with water. Diffuse not more than 1-2 hours a day if you have children around, switch off before sleep.

HOW-TO DIY ROLL-ON: Combine all the oils according to the recommended ratio into 15ml Roll-On glass bottle, fill up the bottle with Jojoba Oil, apply on the head, neck, chest, and feet. Repeat 3 times a day, or before sleep.
✨ How to use essential oils:
• Inhalation is the most beneficial way to receive essential oils' natural benefits. You can inhale essential oils by sniffing a drop from your palm, or add to a diffuser.
🌿 You can also add a few drops essential oils to:
• a diffuser, to add to the atmosphere
• dilute in a carrier oil and add to steamy bathwater
• a carrier oil, for massaging the head, neck, or feet
• a large bowl of hot water, for steam inhalation
• hot or cold compresses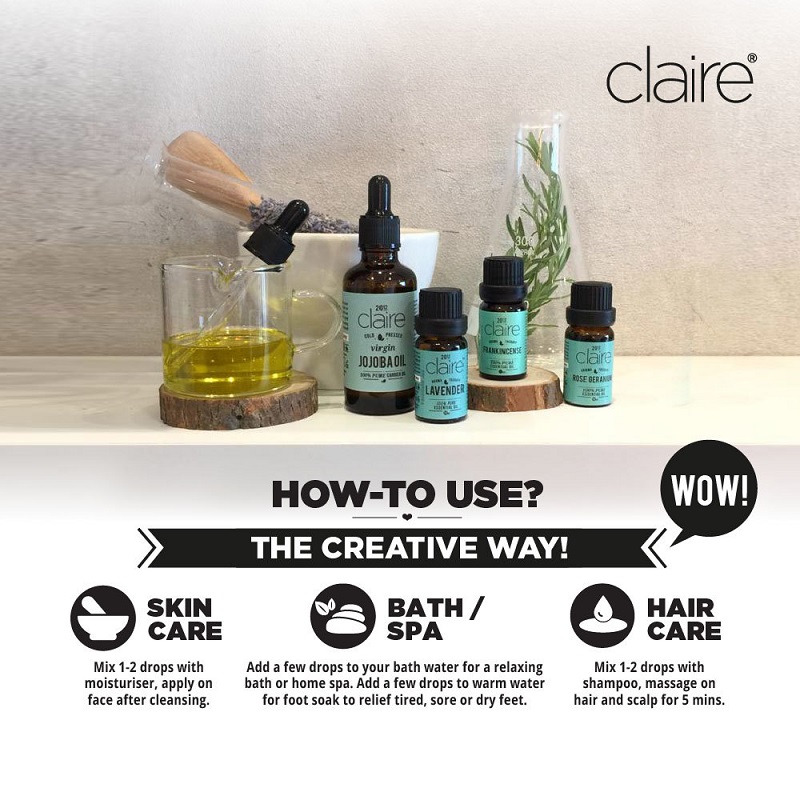 ESSENTIAL OIL HOW-TO
1. DIFFUSE
Put a diffuser by your bed and diffuse oils while you sleep at night or in the family room while you're reading or winding down in the evening. Throughout the day, diffuse for work or study with oils that improves brain power or energy. This is also a good way to add the scent of an essential oil to a room.
2. INHALE
Clear your mind then inhale directly from an open bottle or rub a drop of oil between your palms and breathe in the aroma. Do as needed throughout the day. Several drops of essential oil are placed on a cotton ball or tissue and allowed to evaporate into the air.
3. SKIN APPLICATION
Besides your face and body, the most common places to apply oils are the bottoms of feet, chest, temple and pulse points. Apply 2 to 3 drops (a little goes a long way) right on the skin, or combine 5 to 10 drops with a Carrier Oil like Jojoba, Avocado or Rosehips oil.

IMPORTANT: Just because it's from a plant doesn't mean it's safe to rub on your skin, or breathe, or eat, even if it's "pure." Natural substances can be irritating or cause allergic reactions. Like anything else you put on your skin, it's best to test a little bit on a small area and see how your skin responds.
4. BATHS
Add 6-10 drops of essential oil to bath water or use with sea salts or Carrier Oil for a soothing bath and moisturised skin.
5. MASSAGE
When you visit the massage centre, it's always a good idea to bring your own favourite oil! Or give yourself a massage at home for a good night sleep. Make your own massage oil by adding 20-25 drops diluted to 1/2 cup of Carrier Oil. Start by massaging the feet as it allows oils to qCuickly absorb into skin.
6. SPRAY
Add 6-10 drops of essential oil to water in a glass spray bottle, shake well before use. Spray into the air to deodorise a room or set a refreshing mood. You might also want to use a solution of water and your favourite essential oil as a yoga mat cleaner. Always shake well before use.


---
" Used the lavender essential oil every night for a week, and by far it's the best remedy to solve the problem of falling asleep every night. I applied few drops at the sole of my foot, and it works!! Highly recommended for those with the same problem as me 😉☺️"

Ashley says,

" I bought 3 bottles of essential oil in last month and today I returned to buy more as it really good and help me have a good sleep at night. "

Juj says:

" Their lavender essential oil is very good, it is 100% pure and i felt so relax by using it "



[FREE ESSENTIAL OIL] Aromatherapy Cool Mist Diffuser

Customer comments
| Author/Date | Rating | Comment |
| --- | --- | --- |