BEST RAYA!
Gift Set
Selamat Hari Raya!
Dengan ingatan tulus ikhlas, maaf zahir batin.
Celebrate with Claire in this warmest joyous Raya season.

In our #supportlocal initiative, We're teaming up with @rhymbahillstea & @kintry to bring you more local quality conscious products!


IN THIS GIFT

• KINTRY SALTED EGG CHIPS
Thinly sliced potatoes with REAL salted egg yolks, fragrant curry leaves and fiery chili.
• KINTRY PANDAN GULA MELAKA GRANOLA
Delicious high-fibre snack. Fresh pandan leaves steeped in a gula melaka concoction. Rolled oats are then added and slow roasted with almonds, chia seeds and coconut flakes.
• RHYMBA HILLS® LEMONGRASS BLEND
Sugar free and caffeine free. Rhymba Hills® Lemongrass Blend is craftily blended with the citrusy Lemongrass, tangy Kaffir Lime Leaves and the 'Asian' vanilla, Pandan, to give you a soothing taste and aroma that you would want more. Perfect for those who: Have constipation, insomnia, Bloatedness, Indigestion.
Ingredients: Lemongrass, Kaffir Lime Leaves, Pandan
Size: 10 sachets x 2 gram
Halal Certified
Customer Testimonies:
"Rhymba Hills Lemongrass Blend is my favourite. It has a unique fresh aroma most pleasant to my taste bud. Immediate bowel movements observed on the 1st refill. I will definitely recommend for any person who has irregular bowel movements. Thumbs up to Rhymba Hills" - Elaine Kum, Director

• CLAIRE SURPRISE BOX come with:

• SOOTHER BALM
Perfect Soother to soothe Sensitive Skin!
Restore Healthy Skin Condition.

• YUMMY LIPS
Intensive Lips Treatment for dry or sensitive lips.
Lip Gloss for the day, Lip Mask for the night!

• MULBERRY WHITENING SOAP
All-natural handcrafted soap.
Best for all skin type, face & body.

• BUBBLY SOAP SAVING POUCH
Soap Saver to protect your precious handcrafted soap, and lather up easily. Double up as scrubber too!


• LIMITED EDITION GIFT BOX (Free!)

• RAYA ECO TOTE BAG (Free!)
• HARI RAYA CARD (Free!)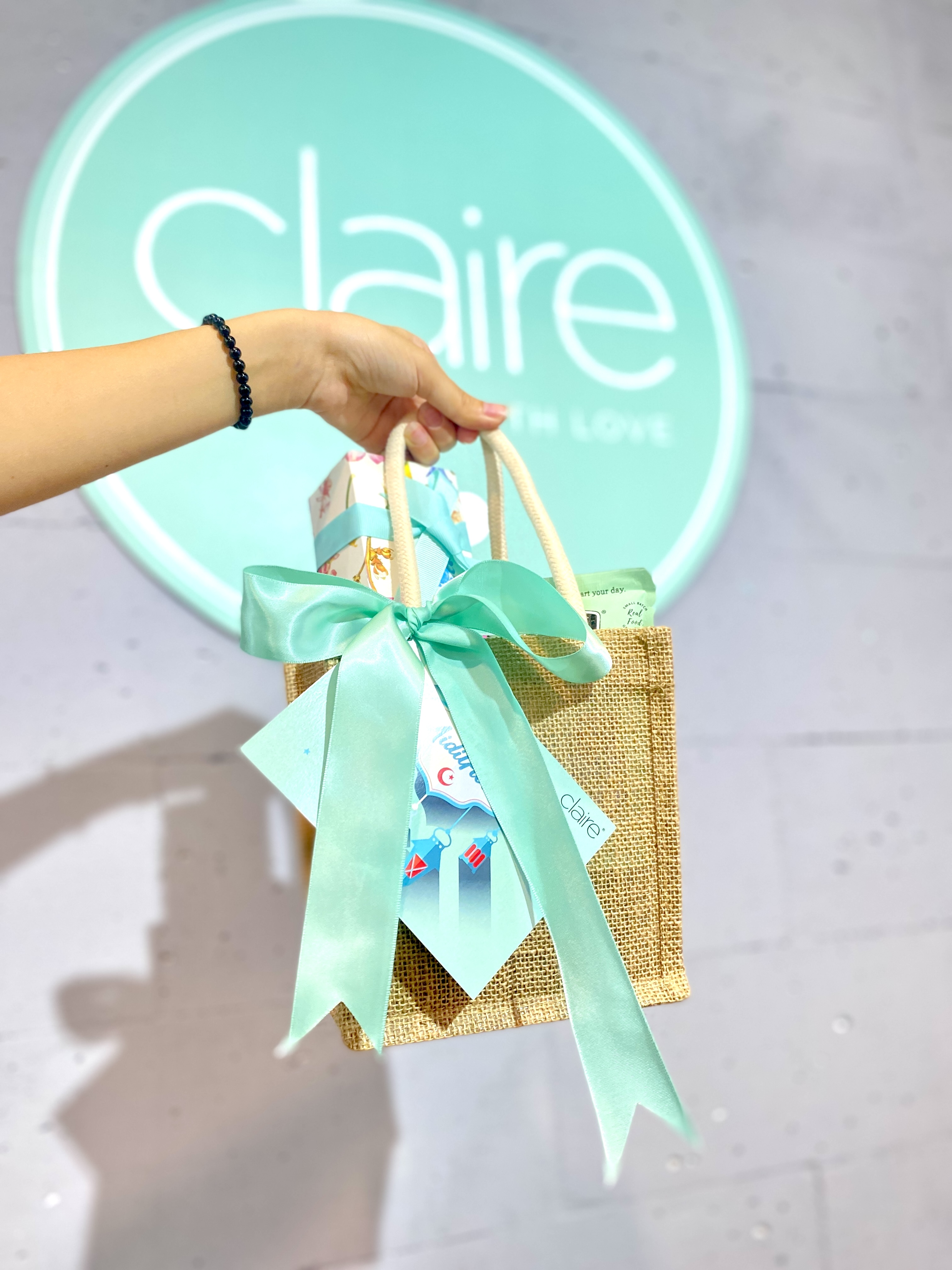 ---
Happy customer,


Raf says,

" My favourite. I always apply this for 3 days continuously on my pimples and it will start shrinking. For mosquitoes bite, Flu, Headache. EVERYTHING!!! "

Eve says,

" Love the Yummy Lips the most, this is my 4th tube. It's suitable for sensitive lips. I feel lips are moisturised whole day after applied. Amazing ❤️❤️❤️. Cheers "


Bee says,

" I tried the soap for few weeks now and I notice my skin felt different it feels softer and my face glowing :-) :-) :-) "



---

DID YOU KNOW?


1. Soother Balm is our best-seller, best to soothe sensitive skin:

- Eczema
- itchiness
- rashes
- insect bites
- acne
- headache
- nausea
- etc


2. Daily Lips Treatment

Use in the day:
Indoor / Outdoor - Protection against the harsh weather or air-conditioning that dries up your lips.

Use in the night:
Apply a thick layer before bedtime, pamper your lips to a full night of intensive treatment, and feel the magical touch on your lips the next day!


3.Why Handmade Soap?

Handmade soaps from talented artisans use fresh and natural high-quality ingredients such as essential oils, shea butter, olive oil, oatmeal, or goat's milk so it doesn't harm your skin in the long run.
Customer comments
| Author/Date | Rating | Comment |
| --- | --- | --- |